These fat-burning foods make the perfect sidekick to your weight-loss routine. Sure, they each banish bad guys on their own, but they're an even stronger force in tandem.[9]
Check also: Never Eat These 8 Foods If You Have Joint Pain
No single food will automatically target your turkey neck (fat loss only happens when you burn more calories than you ingest, leading your body to preferentially break down lipid stores for energy).[4] But alongside a proper fitness regimen, what you eat will help you torch body fats.
Whether it's turning off fat genes, helping to build muscle that robs energy from adipose cells, revving your metabolism and ability to burn fat, or helping you feel fuller longer so you consume fewer calories, these foods have been proven to show an increased rate of fat loss.[7]
Follow @newslexpoint
So, incorporate these healthy fat burning foods into your diet!
1). Cayenne pepper
Who knew there was a connection between a spicy pepper scorching your mouth and burning your belly fats? Scientists did! According to a study in the American Journal of Clinical Nutrition, daily consumption of one of the compounds found in pepper (capsaicin) speeds up abdominal fat loss by boosting the body's ability to convert food into energy.
It also acts as a natural appetite suppressant: men who ate spicy appetizers consumed 200 fewer calories at later meals than those that did not, a study by Canadian researchers found.[8] All you have to do to reap the benefits is use a pinch of cayenne pepper to season grilled fish, meats, and eggs.
2). Guacamole
A scoop of guacamole is one of the most effective fat-burning, hunger-squashing snacks known to man. Not only are avocados rich in vitamin B6—which directly counteracts the belly-fat-building stress hormone, cortisol—they're also full of monounsaturated fat. This healthy fat may actually prevent body fat distribution around the belly by down-regulating the expression of certain fat genes, according to research in the journal Diabetes Care.
These same satiating fats may also be the reason behind another study that found people who ate half a fresh avocado with lunch reported a 40 percent decreased desire to eat for hours afterward.[9]
3). Oatmeal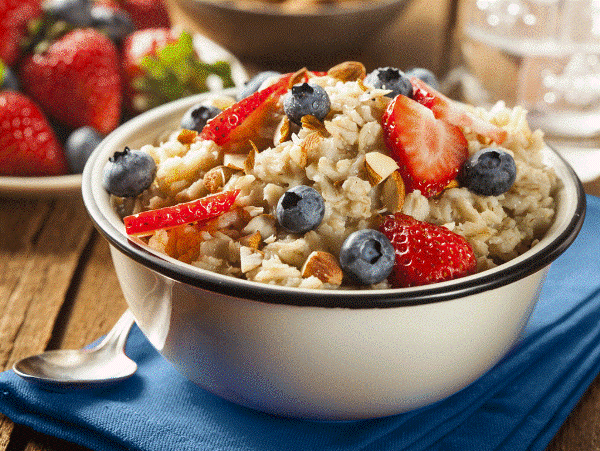 Carbs are not the enemy. Not whole-grain carbs, that is. [2]People who ate three or more daily servings of whole grains (such as oats) had 10 percent less belly fats than people who ate the same amount of calories from processed white carbs (bread, rice, pasta), according to a Tufts University study.[1] It's theorized that this is due to whole grains' high fiber and slow-burn properties, which keep you satiated longer.
Comments
comments