It was in 2014, a controversial year for miss Aisha Nabukeera , who was crowned as Miss Uganda beauty personnel. But hurtedly, critics bumped in and through insults towards her, the organizers ans people marked her as 'ugly' beauty queen making it uncomfortable for her.
Check also: Let's Fight Injustices In Our Entertainment Industry -Bobi Wine Calls Up Fellow Musicians
Aisha Nabukeera was criticized by her boy friend calling her roasted chicken.
Really it is so bad and heartbreaking if such guys and men of that type still exist, because this act shown how unreasonable and fake he was when he came up with that point yet Sharif Muhatsi never saw that when he was with her for the past years.
To put more light about her, the previous years back, Nabukeera Aisha's life at that time turned to hell in 2006 when her hurt less step mum, burnt her entire upper body leaving the poor innocent girl with scars that lowered her unexpected personality.
However, to the surprise, according to Nabukeera Aisha's Facebook post, she seemed not hurt at all about what her guy said. Her boyfriend, Sharif Muhatsi took advantage of the unfortunate situation and threw insults at her calling the fire victim a ''roasted chicken''.
But still below is her facebook post as she expressed how pity she felt for Sharif her boyfriend.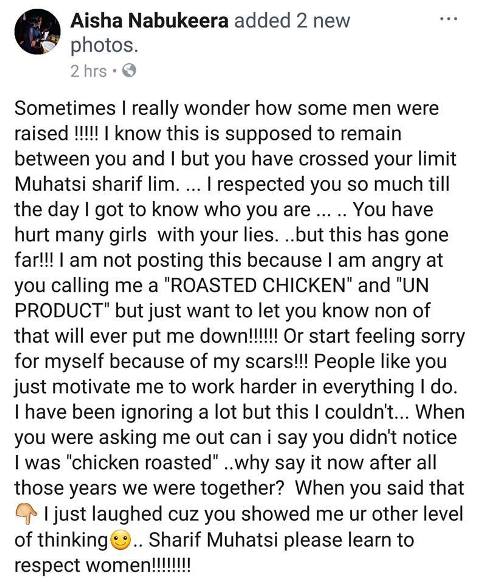 Check also:
Comments
comments