Tour and Travel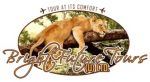 Uganda
Bright Future Tours (U) Ltd. offers you a truly amazing experience as you tour our scenic attractions. We have been offering services since May 2010 and have highly professional and experienced staff to guide you on your tour.
You get the very best from us as we tailor your tour package. We arrange your tour, process your visa, arrange your accommodation and give you the very best tour and travel guidance.
We also offer car hire services and have a fleet of saloon cars, buses, vans and Four-Wheel drive vehicles.