T
his is amazing and unbelievable,
Hidekichi Miyazaki
a Japanese centenarian commonly known as "
Golden Bolt
" set a fresh record on Wednesday as the
world's oldest
competitive sprinter.
Check also: Sprinter Usain Bolt was knocked over by a Chinese camera man just after his 200m victory
Miyazaki completed this race one day after turning 105 years with a time of 42.22.
When he was 103 years old, he achieved his personal record of 34.10 and this made him to remain in the Guinness Book of World Records.
Hidekichi Miyazaki is an amazing old man!
Miyazaki uses similar possing style just like that of the fastest man in the world, Usain Bolt, he says he would like to compete against the Olympic gold medalist one day.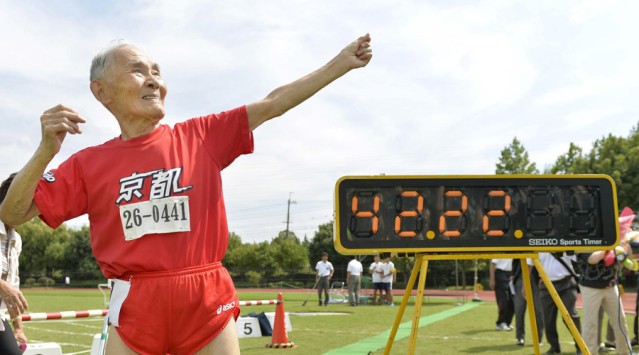 I am just proud of my health physically though my brain might not be sharp enough, my health is surprisingly good and this has made the doctors to be amazed, said Miyazaki."
Follow @newslexpoint
Hidekichi Miyazaki is still a strong man!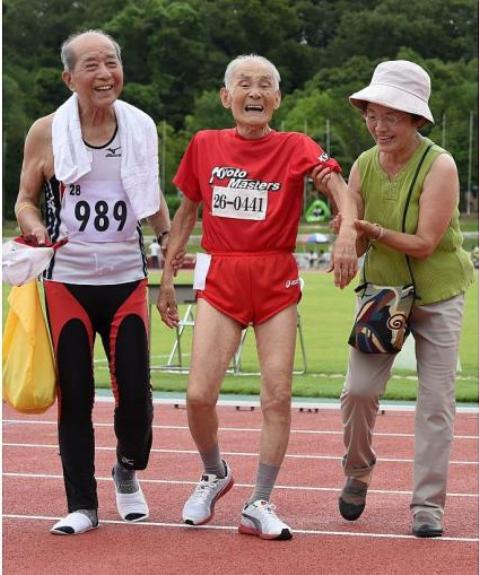 He said he still has to run for more two or three years  period because this is the only activity he chose to do from his early 90s after seeing that many of his friends he used to play board games with passed away. This is really amazing to find such an old man sprinting like a young man, really Japanese are very strong people in the world, its not easy to find this else where in the world, i have only seen it in Japan.
Many old people of his age just cant do anything like running, all they do is to sit the whole day and keep crying of backache and so on, but i really salute the Japanese.
Check also;
Comments
comments