T
he so called loaded money bags, Jack Pemba, is still under cover searching for money to pay back his fellow tycoon
Godfrey Kirumira
, and more he's being accused by his side chick, Honey Suleman of allegedly releasing the couple's porn tape after a failing to pay him.
Check also: Sexually Horny Makerere Lecturer Suspended For Sexual Harassment
Jack Pemba released a sex tape with
Honey Suleman
As he looked for a good solution while hiding, he figured out the people he demands his money, and he  thought of Suleman whom she disclosed her naked yoyo towards the public. So as another way of raising back Kirumira's money, he decided to release this video even though his face is not visible in the circulating tape, the girl (Honey Suleman) seen in the video insists it is Pemba himself who recorded that intimate moment and there is no way the tape could have fund its way to the public except with his consent.
To add on, it's also alleged that Jack Pemba is still under hiding following the arrest warrant issued by court on Monday over failure to service the $300,000, amounting to 1billion shillings soft loan he obtained from Godfrey Kirumira in December last year, the same amount he used to give Abryanz 100Million for his awards.
Jack Pemba is married to a Ugandan fashion designer called Sheeba Kasami and he has been investing so much in her, he built for her a boutique and flew in Koffi Olamide for her birthday a few weeks ago.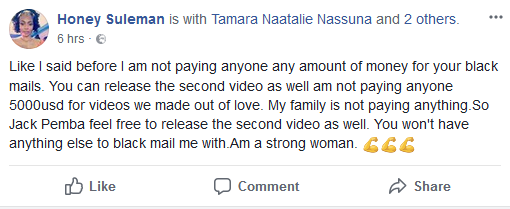 We don't have clear videos but these links will guide you.
Click Here to Play:>> Jack Pemba and Salamah Tape 1
Click Here to Play:>> Jack Pemba and Salamah Tape 2
Check also:
Comments
comments