Markus Alexej Persson , 36 years is a Swedish video game programmer and a designer, he built a company known as Mojang, the video game company which he founded alongside Jakob Porser and Carl Mannech in 2010.
Check also: Microsoft to invest $100 million in Uber Technologies
Minecraft is one of the most popular and downloadable computer game at all times, it has really challenged the giants of video game industry today, in Jan 2011, the company sold one million copies of minecraft.
Mojang became massive and successful, later he decided to sell it to Microsoft in September last year for $2.5 billion , he became a very rich man with all the money he hoped for. BUT now Markus is finally unhappy man, what is wrong then?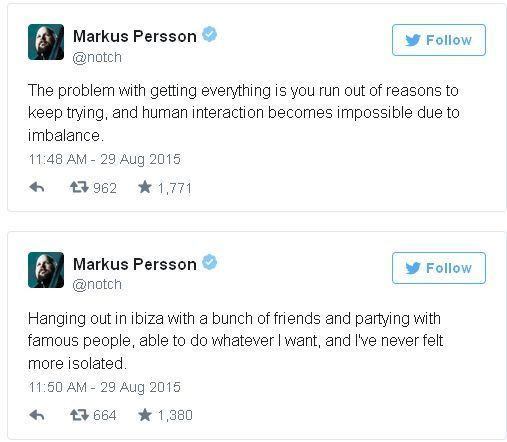 All Mojang employees hate me because I left a shock in them after leaving the company, and yet no body reached out and said it was a initial shock, there is a lot of healing left to do though many keep telling me that its normal to feel this way,  said Markus."
The creater of Minecraft, Markus Persson has shared some of his thoughts about his life after selling off Minecraft.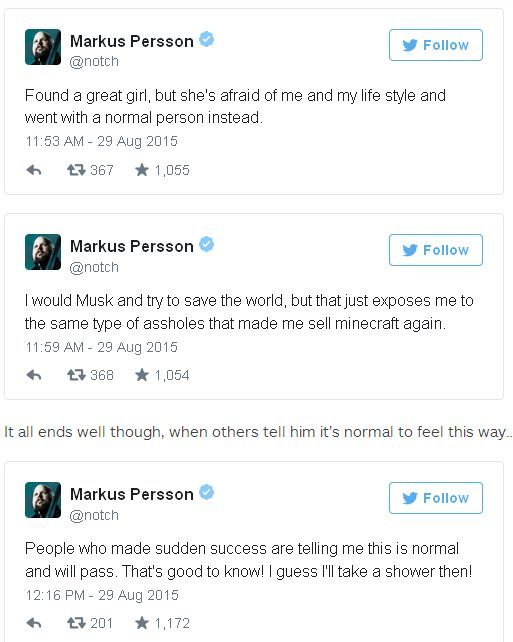 This is incredible but the fact is, its very hard to feel too much sympathy for someone who bought a $70 million mansion in 2014. As of today, Markus is worth $1.33 billion and # 1415 according to forbes.
People who made sudden success are telling me this is normal and will pass. That's good to know! I guess I'll take a shower then!

— Notch (@notch) August 29, 2015
Check also;
Comments
comments