I
f pro soccer were a Disney movie, Cristiano Ronaldo would definitely be the cocky, preening villain, à la Gaston. Who are you, and what have you done with the real
Cristiano

R

onaldo

?
Check also: Soccer player to be jailed for 8 – 15 years for killing a referee
The star of Spain's Real Madrid team is usually posting shirtless pictures of his admittedly impressive physique on Instagram, so this glimpse into his life as an adoring papa made for a nice change. Ronaldo has long relished playing a bad-boy role in world-stage soccer — and doesn't mind at all when he's jeered and booed by massive crowds.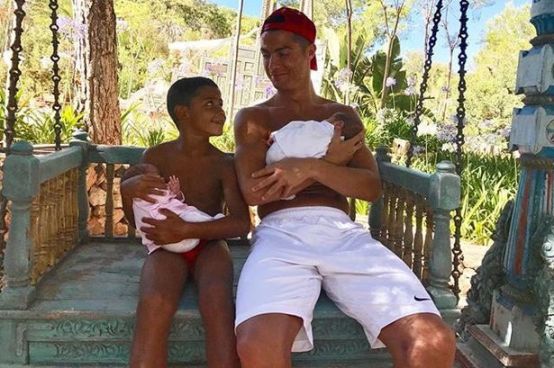 In fact, one of his most notorious quotes could have been one of Gaston's lines straight out of the Beauty and the Beast screenplay: "[I am booed] because I am handsome, rich and a great player, because I am envied. I have no other explanation," he said.
Well, OK then, you handsome procreating devil, you. Confirmed details are scarce: The star athlete reportedly welcomed the twins via a surrogate and is currently dating Georgina Rodriguez (who is rumored to be pregnant with Ronaldo's baby, due in October).
We know; we can barely keep track either. No word on who will be on diaper duty for the new twins.
Yup, we love the daddy version of Ronaldo. We admit it. We can't help but laugh remembering the season during which he was asked which top soccer players caught his attention.
His response was epic: "Myself, in the mirror."
But it seems fatherhood may be changing his ways — clearly Ronaldo has eyes for a few other select humans besides himself now. The old softie.
Source: she knows
Check also;
Comments
comments