Equity Bank Uganda is now under pressure over an angry customer identified as Dennis Matovu, who is very bitter with the awful customer care/ service accorded to him after he had reported numerous fraudulent transactions shadowing on his account.
According to Dennis, he received an automated message from Equity indicating that his account had been debited with 5USD. He again received a similar message but this time around indicated a transaction of 40USD. The cycle continued as indicated in the photos attached.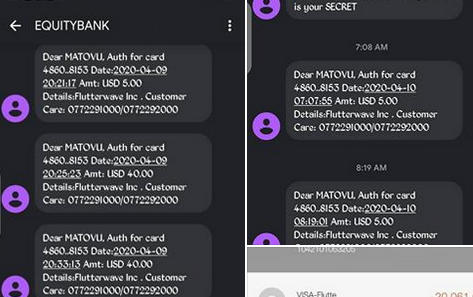 Additionally, there were unusual transactions so he got in touch with Equity Bank who up to the time of this post have not been helpful to their client. However Ritah Kaggwa, a famous Facebook blogger exposed the bank through proof of screen shorts for Denis's messages.

"If you are a client of EQUITY BANK UGANDA and have faced a similar problem, we would like to hear from you. …. EQUITY BANK WEYAYU? It is the responsibility of the bank to secure its customer's money including deterring any suspicious transactions." Ritah Kaggwa posted.

Check also;
This is not a Paywall, but Newslex Point's journalism consumes a lot of time, hard-work and money. That's why we're kindly requesting you to support us in anyway they can, for as little as $1 or more, you can support us .
Please use the button below to contribute to Newslex Point, Inc. using a credit card or via PayPal.
Comments
comments