It was really shocking and sad when a man identified as Kimuli Joseph, left earthly life and committed suicide after realizing that his wife stole his money and decided to enjoy it with another man.
Check also: Zari Hassan's Hottest Truth About A Relationship With A Man
Kimuli Joseph killed himself after finding out his wife is with another man enjoying his sweat.
However, the wife identified as Nassali used this chance to be with another man when Joseph went abroad for hustles and make sure she lives good life, but unfortunately, Nassali decided to chop his money with some unidentified man.
Suddenly, all this took place after Nassali, who he had one child with him packed everything in the house before Joseph came back and ran away leaving the house empty. It is also alleged that Joseph used to send her money to build a house of them both but in real senses, she just used the money for her own benefits.
Shockingly, when Joseph Kimuli had about all this, he lost his minds by writing some hurting statements on a paper implying that;
"Ok let me die as you enjoy life to the fullest, but i swear have killed myself because of you. You made hate each and everyone, have been on your side but you decided to pay like that, Nassali/maama Kisakye, it's you who killed me". Kimuli left his last remarks to Nassali.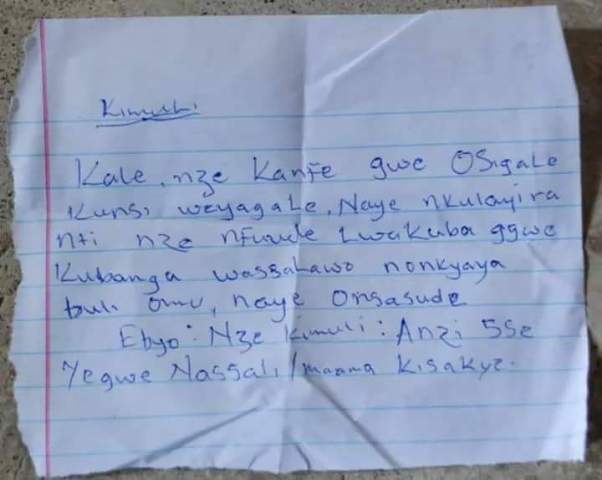 We are not yet sure if this letter reached the owner but all we know she might not feel good when she gets it.
Check also:
This is not a Paywall, but Newslex Point's journalism consumes a lot of time, hard-work and money. That's why we're kindly requesting our readers to support us in anyway they can.
Use the button below to contribute to the Newslex Point, Inc. using a credit card or via PayPal.
Comments
comments