The fighting giant Mayweather Floyd's bodyguards were wounded when an assassin in a vehicle opened fire on the former boxer's car in Atlanta on Monday, and the police announced.
Check also: Cristiano Ronaldo Named The Sports Person Of The Year 2017
Mayweather escaped death when an assassin missed him in a car he thought he was.
Luckily enough, Mayweather wasn't in the car that was shot onto, and did not suffer any single injury in that incident. Those reports came from the spokesman, Atlanta Police Department.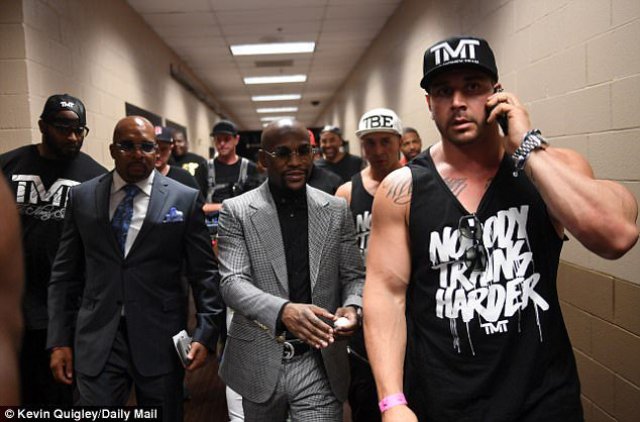 However, Mayweather's bodyguard Gregory LaRosa, was seriously injured on the leg after being shot, and was released from hospital three hours later after the incident.
Using this official twitter handle, he put some amazing statement implying that;
"I don't know nothing about tomorrow but i'm leaving for today". He lamented.
I don't know nothing about tomorrow but I'm living for today.

Photo Credit: @moneyyaya pic.twitter.com/H7HC12hZGv

— Floyd Mayweather (@FloydMayweather) April 8, 2018
Suddenly, a vehicle pulled up to the SUVs in an intersection and a gunman inside opened up a war, and shot LaRosa's lower leg. But on the safe side, the driver of the vehicle LaRosa was took him straight to hospital earlier.
The police in believes that the shooter was followed up by  group that was ready to start up a big fight at the scene, but unfortunately, Mayweather was in Atlanta to promote a boxing event in Las Vegas on Saturday night, were he survived death.
Check also:
This is not a Paywall, but Newslex Point's journalism consumes a lot of time, hard-work and money. That's why we're kindly requesting our readers to support us in anyway they can, for as little as $1 or more, you can support us .
Please use the button below to contribute to Newslex Point, Inc. using a credit card or via PayPal.
Comments
comments