U
gandan comedian Patrick Idringi commonly known as Salvado bellows with laughter when addressed by his newfound title: Africa's funniest man.
Check also: Here'ss Milton Sere, Zimbabwe's Ugliest Man -2015
"It's actually overwhelming because it's too much pressure," he says. "To get that title—it's really far-fetched!"
The 31-year-old comic has made it to the semi-final stage of the "Funniest Person in the World," a competition run by Hollywood comedy club The Laugh Factory. The competition carries a $100,000 grand prize—around 350 million Ugandan shillings—as well as a stand-up tour across the U.S.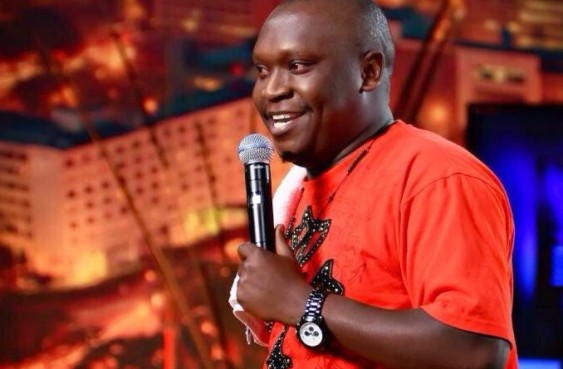 A former telecoms engineer, Salvado says he turned to comedy after a 2009 reality television competition to find Uganda's funniest person. He won second place, and became a regular on the stand-up scene. "From there, I never looked back," he says.
The comedian has gone on to tour across Africa and become one of Uganda's best-known exports, performing in the U.K. and the U.S. alongside household names such as The Daily Show host Trevor Noah at the 2015 Comedy Central International Comedy Festival in South Africa.
Not bad for an ordinary guy from the tiny village of Ombokolo in northwestern Uganda. "I'm a star [in Ombokolo]. I'm like their best-kept secret, I'm a national treasure in Ombokolo," he says.
To reach the semi-finals of the Laugh Factory's competition, Idringi had to overcome an old rival—fellow Ugandan comedian Pablo Kimuli, who beat Salvado in the 2009 national competition. Only one comedian from each country represented was allowed through to the semifinals, and Idringi's video submission outperformed his old nemesis, though he is gracious in victory. "If they had chosen the top 20 depending on the votes, Uganda would have had two representatives, because [Pablo] was also doing well," he says.
Salvado performs under the stage name Salvado
He gleaned this name from a Spanish soap opera, a genre known as telenovelas, which are popular in Uganda. In one series called Second Chance there is a particularly alluring male character called Salvador.
Ugandan comedian, Salvador in World's Funniest Person Competition https://t.co/UomDTcXvZ2 Wishing you all the best @idringp !!! pic.twitter.com/xODakYOp8A

— UGHighCommKIGALI (@UGHighCommRWA) October 21, 2016
"He was the most good-looking person on Earth. Every lady wanted to touch him or see him, so every time I called myself that it would cause a roar," says Salvado.
My bro @idringp is funniest man in Africa. He's made it to the top 20 in the funniest person in the world #fpiw https://t.co/N7Km3ly3jf

— Alan Kasujja (@kasujja) October 25, 2016
Despite his onstage persona, the Ugandan actually says that his looks are the main source of his material, particularly when he is facing a tough crowd. An average-sized man and not particularly hideous, Idringi says that his career has improved his appearance. "Money has done a lot of good to me!" he says.
@dopolot8 Congs Salvador. You 've made us proud. I remember listening to u as comp. started. I liked the confidence

— ssebbanja dirisa (@ssebbanjaDirisa) October 26, 2016
Before performing in Helsinki, Salvado says he will be touring in South Africa, Kenya and Nigeria. He names London's Hammersmith Apollo as his best reception so far, but says he encountered problems in francophone African countries, such as Cameroon.
"The language was a problem," says Salvado, who doesn't speak French. "I had a translator, he was using my jokes and he was funnier than me!"
Source: Newsweek
Check also;
This is not a Paywall, but Newslex Point's journalism consumes a lot of time, hard-work and money. That's why we're kindly requesting our readers to support us in anyway they can. Please use the link below to make your donation to Newslex Point using Paypal or via credit card.
Comments
comments