The Kenyan singer who is well-known as Ringtone, is so emotional and crazily need to be part of Zari's life. If you thought that he was joking about his true love and crush towards Zari Hassan, you're really wrong as he has delivered this brand new Range Rover to Zari.
Check also: Cindy Is Uganda's Beyonce, Rihanna and Lady Gaga- Eddy Kenzo Claims
Kenyan singer Ringtone, blasted by Zari over his new Range Rover he bought for her.
It was a sad moment when the Kenyan artiste, Ringtone felt low when he went to Kiss FM where she had gone for an interview, but unfortunately he couldn't find her in time.
"True to my word when I heard that @zarithebosslady was on @kiss100kenya, I rushed to deliver her gift but unfortunately she had just left the.radio station. Sikumnunulia gari juu huwezi afford no but nilinunua kama gift ya zile birthday zote nimemiss kwa maisha yake. I pray that #Thisyear nitabarikiwao" Ringtone expressed out his love Ringtone
Sadly, one of Zari's fans commented back about what Zari replied back about him during the interview;
"Was so clear this morning during her interview with @adelleonyango and @shaffieweruthat she doesn't know you and she doesn't need 2 Range Rovers because she bought hers just the other day… And she's not here to meet you but she's here with a purpose." she said.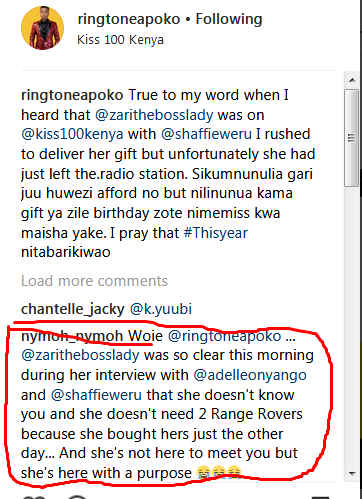 Check also:
This is not a Paywall, but Newslex Point's journalism consumes a lot of time, hard-work and money. That's why we're kindly requesting our readers to support us in anyway they can, for as little as $1 or more, you can support us .
Please use the button below to contribute to Newslex Point, Inc. using a credit card or via PayPal.
Comments
comments