Producer Rinex is regarded to be one the best music producers in Uganda. But currently, this guy really needs financial support in order for him to get back to Uganda. He managed to get saved from injuries, but he failed to raise money to set off back to mother land.
Check also: Fik Fameica And Wizkid Collabo Will Be Held This Year
Rinex stranded in India after surviving death.
Apparently, Rinex called upon his friends seeking for help together with his family who yearned for the entertainment industry inclusive of musicians to rise up and support him.
However, it should also be remembered that it was last Friday night at Calender Hotel, Makindye, when they campaigned with an  aim of helping Rinex with a theme "Save Rinex Campaign". This campaign was so successful that they managed to raise half of the money, and this money was sent to him for a successful operation.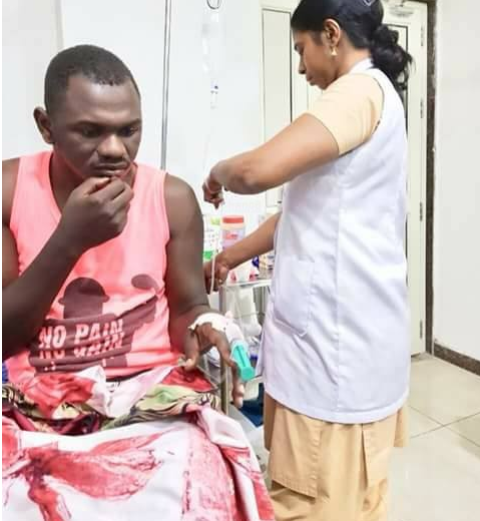 The one Rinex, CEO of Power Records is a very hardworking and determined personnel in producing good music in Uganda. He produced many hit songs that were liked by many Ugandans and internationally. These songs include one  Bebe Cool's 'Kasepiki', 'Chap Chap' ft Tanzania's AY and many more. He went ahead and produced songs for Jose Chameleone, Juliana Kanyomozi, Sweet kid, Kadongo Kamu singers only to mention.
We pray for the producer to come back safely.
Check also:
This is not a Paywall, but Newslex Point's journalism consumes a lot of time, hard-work and money. That's why we're kindly requesting our readers to support us in anyway they can. Please use the link below to make your donation to Newslex Point using Paypal or via credit card.
Comments
comments