W
hen you're buying a new
iPhone
, we would always advise you to avoid the one  with the least storage. We understand the temptation. After all, the 16GB iPhone is
$100
cheaper than its 64GB counterpart. Unfortunately, you'll actually end up with around 12GB free, and it can fill up rather quickly. Don't despair if you have got a 16GB iPhone, however, because there are plenty of things you can do to maximize your space and learn to live with it.
Check also:The cheapest Smartphone in the world goes on sale for JUST $4 in India
Behold our IPhone space-saving tips below.
Downsize your apps and games list
Head into Settings > General > Usage > Manage Storage and have a look at what's eating up the most storage space. Apps and games that you don't regularly use should be uninstalled, after all, do you really need them? You can always reinstall them again if you really want them, so be ruthless.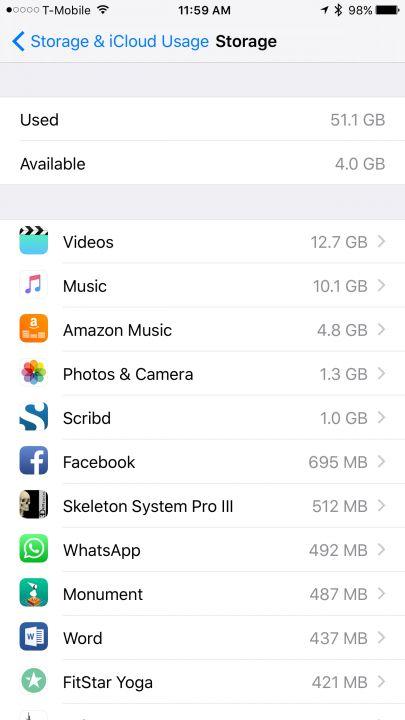 Apps also tend to grow over time as you use them, so it can sometimes be a good idea to occasionally uninstall and reinstall them. Tap on individual apps in Settings > General > Usage > Manage Storage to see how much extra storage is associated with Documents & Data. This can be a large and unnecessary slice of your storage, especially with apps such as Facebook.
Stream music and movies
Forget about loading music tracks, TV shows, or movies onto your iPhone. Use streaming services instead. Spotify and Netflix are our favorites, but there are loads of other to choose from. Apple Music and SoundCloud are great for music lovers, while Amazon Video, Hulu, and HBO Go make the perfect companion for those looking for movies or TV. If you use them when you're out and about, just make sure that you keep an eye on your data usage.
Limit the size of photos and videos
Photos and videos that you shot yourself are likely to be taking up a lot of space on your iPhone. It's a shame not to take full advantage of the camera's features, but you should definitely turn some of them off if you're worried about space.
Start with Live Photos, because each one is a three second video, instead of a photo. Tap the three concentric, yellow circles at the top of the screen in the Camera app. When Live Photos are off the circles should be white. You should avoid using the HDR mode, too, but if you are going to use it, then go to Settings > Photos & Camera and turn Keep Normal Photo off.
You should also avoid recording 4K or slow-motion video if you have limited space, because both will take up a lot of storage space compared to ordinary video. You can save space by reducing the resolution and frame rate in Settings > Photos & Camera > Record Video or Record Slo-mo.
Scroll down and click page 2.
This is not a Paywall, but Newslex Point's journalism consumes a lot of time, hard-work and money. That's why we're kindly requesting our readers to support us in anyway they can.
Use the button below to contribute to the Newslex Point, Inc. using a credit card or via PayPal.
Comments
comments