The king of Tooro, King Oyo had declared that western girls are most beautiful creatures in Uganda.
Check also: Meet The World's Youngest Ruling King, Nyimba
In a leaked social media chat between the King and Trevor Keith Nasasira, son to former Minister, John Nasasira, he advises Trevor to settle for girls from West.
In the chat, Trevor informs the king that there is a certain girl that has been stalking him.
Trevor reveals to King Oyo how he has never met the said girl but they always communicate.
King Oyo later advised his friend to stop dealing with Ugandan girls or settle for western Ugandan girls since they are the only ones who have natural beauty.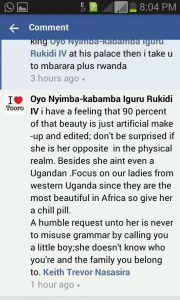 Trevor and King Oyo share a special friendship. It is alleged that the two are OBS from a UK school.
Source: Howwe.biz
Check also;
Meet Gao Qian, the Woman with the most beautiful buttocks in China
Comments
comments