Cristiano Ronaldo continues to make headlines in the Champions league competition through out his football career.
Check also: Ronaldo Named The Sports Person Of The Year 2017
The richest player on earth currently started the season of 2017/2018 season with a low moment but as the season is soon ending he's actually on hype.
Ronaldo has so ever scored 15 goals in the last ten games he has played in the champion's league. He's the first player to score more than 10 goals in 10 matches in the history of champions league.
Talking about scoring, Ronaldo dismantled Juventus yesterday night at the champions league quarter finals.
Ronaldo Scored a wonder bicycle kick  goal against last night which has been the talk among football lovers across the world.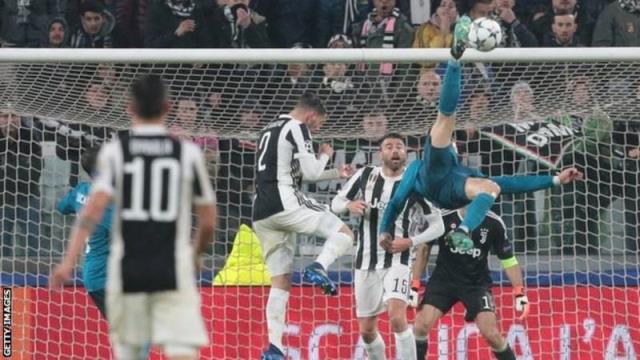 After the match, the football icon was asked of how he felf of his bicycle kick goal which so fantastic.
Cristiano said: "I really had a great night at Juventus's football pitch."
Real Madrid is to play against juventus in the second round at their home football pitch.
Check also;
Ronaldo Was The Toughest Striker To Face-Buffon
This is not a Paywall, but Newslex Point's journalism consumes a lot of time, hard-work and money. That's why we're kindly requesting our readers to support us in anyway they can, for as little as $1 or more, you can support us .
Please use the button below to contribute to Newslex Point, Inc. using a credit card or via PayPal.
Comments
comments