The BET award winner Musuuza AKA Eddy Kenzo has been nominated in The International Reggae And World Music Awards.
Check also: "Jubilation" Kenzo's Video named the best Video in East Africa
Musuuza is nominated alongside Davido From Nigeria, Wizkid From Nigeria, Wale From Ghana and stonbwoy from Ghana
Eddy kenzo has been nominated in many awards in this year 2017 for example Afrima, Ghana Music Awards and Many more
The sitya loss singer baged the Afrima Award
As the year 2017 is ending , the terera singer is already blessed with a nomination of the irawma.
Eddy Kenzo took on his social media page to post one of his great nominations as seen below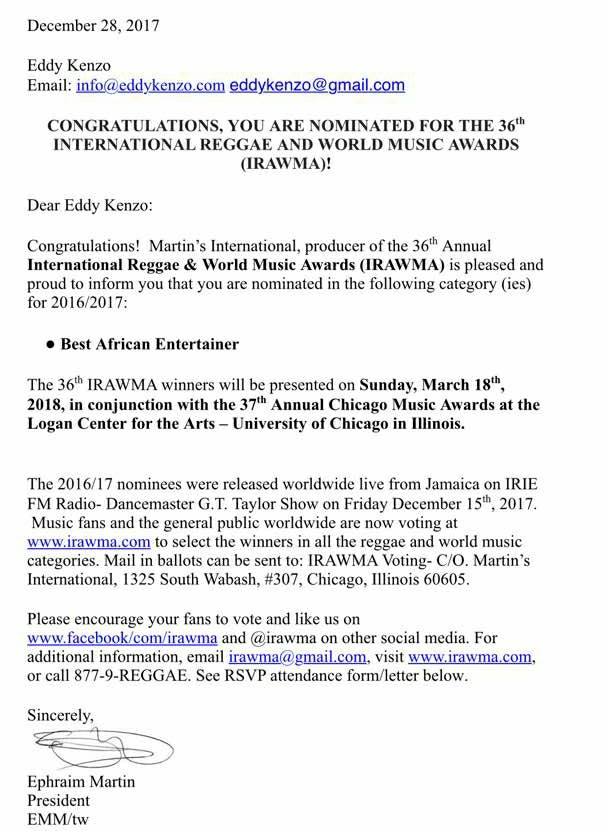 Eddy Kenzo Was nominated  for the Best African Entertainer at The 36th Annunal International Reggae And World Music Awards.
To vote for musuuza visit www.irawma.com 
Check also;
This is not a Paywall, but Newslex Point's journalism consumes a lot of time, hard-work and money. That's why we're kindly requesting our readers to support us in anyway they can. Please use the link below to make your donation to Newslex Point using Paypal or via credit card.
Comments
comments