T
he
"Wiggle wiggle"
hit maker,
Douglas
Mayanja AKA Weasel Manizo, was on Thursday afternoon 12th April 2018, given a-lot of cash in millions of shillings. You may think he got this money from anywhere else, but the truth, through hard work under Bryan White Foundation, he was given his salary by CEO, Bryan White.
Check also: Sheila Gashumba Expressed Her Feelings To The Rwandese Star Breaking Fik Fameica's Heart
Weasel Manizo shown off his fruits from White Bryan Foundation.
Don't forget that Weasel Manizo at one time wanted to fire his long term manager, Chagga just because he tried to divert him from Bryan White Kirumira, CEO boss White Bryan Foundation.
There fore, ever since the money bags, pencil shaped tycoon, Bryan White promised to cater for Weasel Manizo after Mowzey Radio's death, in terms of pushing his music carrier for some good time.
However, when the 'Tokyayitaba' hit maker joined the podium, he was addicted to work for Bryan as his porter  and ever since he joined him, he has never turned back as he collects big sums of money from him. We all knew that Weasel was promised to be helped musically but he seems not to mind more of his music carrier rather concentrating on only charitable work.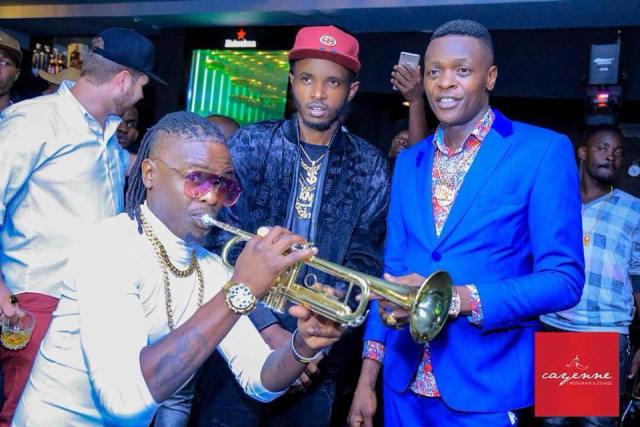 Remember the worst video that went viral on social media when he turned into a porter while carrying big sacks of maize during the charitable deeds of the foundation thus raising concern from revelers whether the singer was dropping his music career for charitable work.
Surprisingly, it was recent when the singer rushed to his official social media account , and posted a photo while sitting in between lots and lots money, a sign that shown that indeed he is gaining a lot from the foundation.
Check also:
This is not a Paywall, but Newslex Point's journalism consumes a lot of time, hard-work and money. That's why we're kindly requesting our readers to support us in anyway they can, for as little as $1 or more, you can support us .
Please use the button below to contribute to Newslex Point, Inc. using a credit card or via PayPal.
Comments
comments