S
outh Africa has many powerful and successful business men and as of today, they are qualified billionaires on the African continent.
Patrice Tlhopane Motsepe
who was born on 28th January 1962 in
Soweto,
he's the man behind South Africa's mining industry and a popular billionaires in Africa.
Check also: Meet Tanzanias richest man
Patrice's father Augustine Motsepe was a school teacher and a businessman who owned a black mine worker's Spaza shop, Patrice grew up learning first hand basic business techniques of mining from his father.
He attended University of Swaziland where he earned a bachelors degree of arts and thereafter, he joined University of Witwatersrand and earned a degree in law.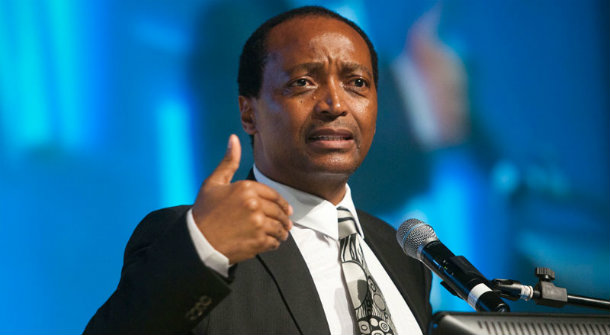 Follow @newslexpoint
Mining industry!
When Nelsen Mandela became South Africa's first black president in 1994, the government begun promoting black entrepreneurs, without wasting time, Patrice immedietly utilized that chance and specialized in business law and mining, later he created his mining service business purposely to clean gold dust from inside mine shafts.
In 1997, gold prices droped, he decided to acquire gold mines from AngloGold under suitable finance terms, nevertheless he continued to buy different operating mines which became his source of income.
Patrice is now the founder and CEO of African Rainbow Minerals which deals in gold, platinum, ferrous metals and base metals, besides, he is the board member of the 12th largest gold mining company in the world known as Harmoney Gold which is worth $1.18 billion.
He is the owner of one of South Africa's giant football club known as Mamelodi Sundowns and also the deputy chairman of Sanlam General Insurance. He has an estimated fortune of worth $2.4 billion, according to forbes.
I greets Mbali Munano Motsepe for the Foundation's road show yesterday. The foundation wants to give about R200-million to the poor.

— Patrice Motsepe (@motsepethopane) October 2, 2014

Patrice was named South Africa's richest man in 2012 and he pledged to give half of his wealth to charity, wow this sounds wonderful!
Check also;
Comments
comments